What people are saying about their experience and healing with Dr. Ryan Russell at Integrative Chiropractic Health & Wellness in Hoover, AL.
Because It's All About Being Pain Free!
In September of 2018, my daughter got the news from her pediatric orthopedic that her scoliosis curves had now approached a degree which would require bracing. She was only 13 yrs old and now we were hearing that she would need to be wearing a scoliosis brace for 18 hours a day, everyday to prevent her curves from progressing. We left there with an appointment for a brace fitting in the next 2 days. I had an appointment at Integrative Chiropractic the next day for myself and brought up this news to them about my daughter. They told me about the program they would recommend for my daughter and as much as I trusted them, I was a bit scared because their treatment did not recommend bracing. This meant I needed to choose 1 or the other for my daughter. After praying about it and discussing this with my husband, we felt strongly that we needed to get her into the plan discussed with us. She was in the office the next day for an evaluation and quickly there after, Dr Ryan and Bobbie had a plan all set up for her according to her specific needs. We committed to the plan. This required a long discussion with a 13 yr old on what was expected for her best outcome and she committed to doing the work involved. We started seeing little improvements just within weeks on her posture and balance. She was in the office consistently and doing her exercises at home as well. Dr Russell would ask her how she was doing and touch base on ways she could get the most out of her "at home" exercises. Bobbie was absolutely amazing in connecting with my daughter and making her feel comfortable. My daughter has gotten stronger and her curves have consistently gotten straighter. It has only been about 6 months and both my husband and I are blown away by the progress she has made on Dr Russell's plan. I HIGHLY recommend Integrative Chiropractic to anyone seeking help with scoliosis! My daughter has been able to attend school without the worries of wearing a brace in public. She has shown such confidence in the strength she has gained in doing her exercise as well as pushing herself. I cant say enough about how happy we are that we chose Integrative Chiropractic to help our daughter gain not only a healthier back, but a healthy self esteem as well.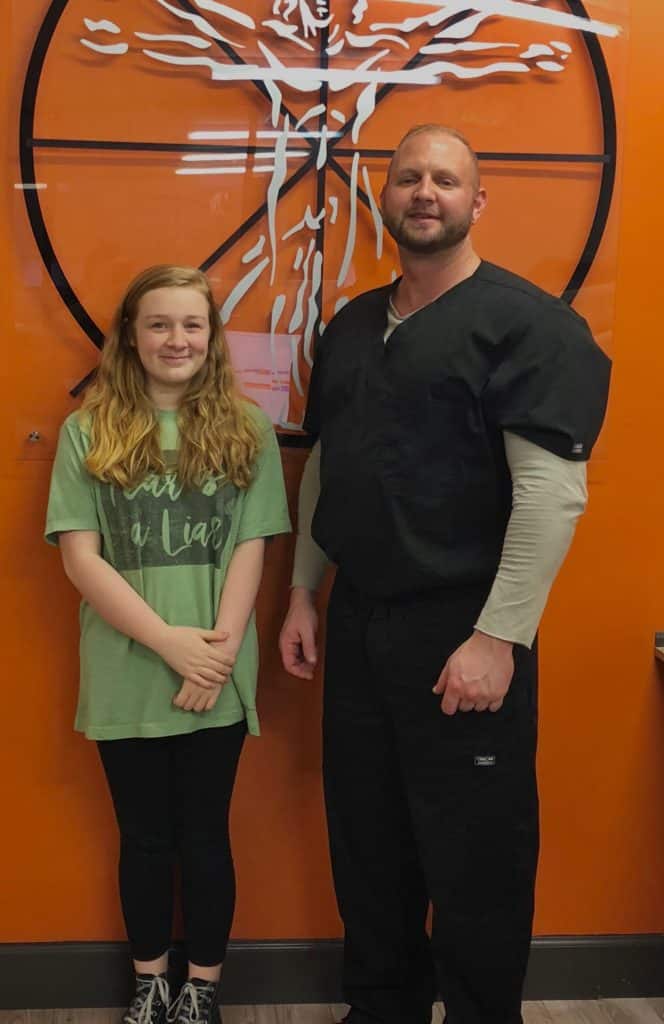 Brandon - Cervical Curve Correction & Lumbar Curve Correction
Jenny and Ashley - Scoliosis Curve Correction
Gia - Cervical Curve Correction
Reviews of Integrative Chiropractic Health & Wellness

Amasico Rainer
15:32 22 Dec 20
I had severe stiffness, pain, and discomfort. In the mornings, it was difficult putting on my shoes and socks. After one visit, felt like the gates of heaven opened. Now 4 visits in, I feel 1,000% better. This guy and his staff are truly "miracle workers" 🙌🏿. I'm afraid of what happens if I miss a visit. One of the best decisions I've made.... thanks doc Mary Frances Rockett
01:11 07 Oct 20
Wonderful Doctor and great staff. I always feel welcome.

Dr. Russell and his staff are exceptional! They have formal training for degenerative conditions as well as deformities of the spine. They have the latest technology for diagnosis and treatment, including digital imaging. Dr. Russell has been able to pinpoint and minimize my pain in both the cervical and lumbar spine. If you need relief, I recommend Integrative chiropractic!

britney lutz
14:22 06 Oct 20
I got in a wreck a few weeks ago and have pretty intense pain in my neck and back. Ryan and his staff have been so great! Always so sweet and caring. The treatment has also been wonderful— and extremely helpful. They are really professional and make sure I know why they are doing certain things and what all my paperwork means. I always feel better when I leave!!

A Google User
13:53 18 Sep 20
I have dealt with back, neck and shoulder issues after car accidents for the past 12 years and have seen several chiropractors, physical therapist and neurological specialist for treatment. Dr. Russell and the Integrative Chiropractic staff have not only improved my condition tremendously through treatments, adjustments and take home exercise equipment, but have given me a new outlook on life and my future. I am so grateful to have found them. They have been the answer to my prayers.

Lower back/neck pains definitely progressed over the years with consistent working out! Had no clue the shape they were in until I came to Ryan! Long time friend and definitely should've started therapy with him much earlier. Anyone that is experiencing any sort of back/neck pain, I highly recommend giving Ryan a shot. You will not think twice about continuing forward with the healing process! I have been going and will still be going weekly for the months to come. Keep up the good work guys!

Gina Seidenfaden
19:34 06 Aug 20
I would like to give praise to Dr. Russell. I've had severe upper back pain for years. I've tried everything you can imagine, from prescription pain medications to herbs, &CBD. I even have a TENS unit. All of these only slightly dull the pain. After only one visit to Dr. Russell, he realigned my spine & I had instant relief!!!! Please do not waste your money on anyone else. He's the best for a reason. I will be seeing him as often as I can afford. He is truly amazing. He's also very kind, patient & considerate.

wayofthelittleflower
12:25 04 Aug 20
Incredible equipment, machines and professional personal!!! I felt important and my needs were addressed in a timely manner. My results have aided me, in better lifting of my bodybuilding lifestyle.🦾 An amazing bunch of people, I didn't think I could feel so good. I mean my actual bone health...I highly recommend Dr. Russell for your chiropractor needs, get down here ASAP.