We Can Help You Achieve a Higher Quality of Life.
Because Quality of Life Means Everything!

What people are saying about their experience and healing with Dr. Ryan Russell at Integrative Chiropractic Health & Wellness in Hoover, AL.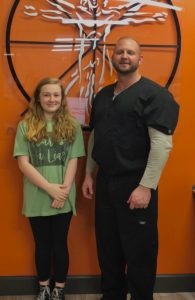 In September of 2018, my daughter got the news from her pediatric orthopedic that her scoliosis curves had now approached a degree which would require bracing. She was only 13 yrs old and now we were hearing that she would need to be wearing a scoliosis brace for 18 hours a day, everyday to prevent her curves from progressing. We left there with an appointment for a brace fitting in the next 2 days. I had an appointment at Integrative Chiropractic the next day for myself and brought up this news to them about my daughter. They told me about the program they would recommend for my daughter and as much as I trusted them, I was a bit scared because their treatment did not recommend bracing. This meant I needed to choose 1 or the other for my daughter. After praying about it and discussing this with my husband, we felt strongly that we needed to get her into the plan discussed with us. She was in the office the next day for an evaluation and quickly there after, Dr Ryan and Bobbie had a plan all set up for her according to her specific needs. We committed to the plan. This required a long discussion with a 13 yr old on what was expected for her best outcome and she committed to doing the work involved. We started seeing little improvements just within weeks on her posture and balance. She was in the office consistently and doing her exercises at home as well. Dr Russell would ask her how she was doing and touch base on ways she could get the most out of her "at home" exercises. Bobbie was absolutely amazing in connecting with my daughter and making her feel comfortable. My daughter has gotten stronger and her curves have consistently gotten straighter. It has only been about 6 months and both my husband and I are blown away by the progress she has made on Dr Russell's plan. I HIGHLY recommend Integrative Chiropractic to anyone seeking help with scoliosis! My daughter has been able to attend school without the worries of wearing a brace in public. She has shown such confidence in the strength she has gained in doing her exercise as well as pushing herself. I cant say enough about how happy we are that we chose Integrative Chiropractic to help our daughter gain not only a healthier back, but a healthy self esteem as well.
Brandon - Cervical Curve Correction & Lumbar Curve Correction
Jenny and Ashley - Scoliosis Curve Correction
Gia - Cervical Curve Correction
Reviews of Integrative Chiropractic Health & Wellness Dana Tessier Macke
19:39 03 Jun 19
I moved to Birmingham from Atlanta with a complex lumbar/sacral/facet/disk issue and sacroiliac screws. Trying to assemble my management team I ran into roadblock after roadblock, until I met Dr. Russell and he took me on as a patient. Dr. Russell is not the typical chiropractor you may be accustomed to, in fact "cracking" is just one small portion of all the things he does to restore the health and mobility of all your muscles, tendons, ligaments, disks, facets, and I have to say - this is the man who can get you out of pain and up and going again. I have never been better! Thank you Dr. Russell!

Clay Dunbar
17:42 30 May 19
This place is state of the art. Not only did he cure my restless leg syndrome and I sleep better but many other unexpected positive results have happened. The machines integrated with the chiro practice and easy to see progress on x rays as well as in how I feel are undeniable. He also has the iv bags and does labs for custom preventative medicine next door. All around this is a good move. Misty Alley Wilson
19:58 13 May 19
I've had multiple areas with issues that Dr. Russell and his staff have been able to fix. What I love about integrative is that it's not just a quick adjustment and you're out the door. Dr. Russell is thorough in doing a complete workup which includes xrays and then makes a decision on therapy based off what's going on. He was very thorough in explaining my xrays and treatment to me. Each time I spent an allotted time in different therapy stations before getting my adjustment with Dr. Russell. His adjustment is on point too. He was able to decrease my neck pain after my first session and following concurrent sessions my neck is currently pain free. There's been other issues with hip and even my thumb joints that he's made feel better. Highly recommend. Steve Lojuk
23:55 23 Apr 19
5 starsWent in with neck and shoulder pain with left arm going numb. Left my first visit feeling 75% better. Can't wait for my next appointment tomorrow.

official Teddy Zane
21:41 22 Mar 19
Great experience with Ryan. Herniated discs and tight hips from years of training always feel better after a visit. Highly recommend.

Sarah Preston
12:31 15 Feb 19
Dr. Russell is amazing! I went in for help with a few small things and found a slew of other things that needed adjustments. Walking around day to day, you don't realize how your spine changes and how much it affects how you feel. I honestly didn't realize I needed the adjustments until after we started, but now I feel so much better than I did. Travonda Maxwell
03:52 07 Feb 19
I had the chance to experience Dr. Russell's techniques. I have been to a chiropractor before but he wasn't as precise like Dr. Russell is with his treatments. I can actually feel a lot of difference from the time I started 2 months ago until now. I feel like a new person. I had a lot of mid and low back pain from a car accident. His whole staff is always very professional and kind so if your looking for a chiropractor to get the job done right he is definitely the right Dr. Denise Adcock
06:58 16 Jan 19
He is always helpful and trys his best to fit us in his schedule. The staff are wonderful, knowledgeable, and very helpful!
Join Those Who Are Living Pain Free Lives
Integrative Chiropractic Health & Wellness
1580 Montgomery Hwy #14, Hoover, AL 35216
205-637-1363.