We Can Help You Achieve a Higher Quality of Life.
Because Quality of Life Means Everything!

What people are saying about their experience and healing with Dr. Ryan Russell at Integrative Chiropractic Health & Wellness in Hoover, AL.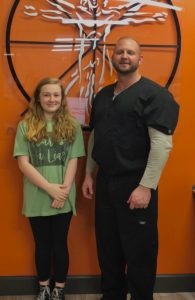 In September of 2018, my daughter got the news from her pediatric orthopedic that her scoliosis curves had now approached a degree which would require bracing. She was only 13 yrs old and now we were hearing that she would need to be wearing a scoliosis brace for 18 hours a day, everyday to prevent her curves from progressing. We left there with an appointment for a brace fitting in the next 2 days. I had an appointment at Integrative Chiropractic the next day for myself and brought up this news to them about my daughter. They told me about the program they would recommend for my daughter and as much as I trusted them, I was a bit scared because their treatment did not recommend bracing. This meant I needed to choose 1 or the other for my daughter. After praying about it and discussing this with my husband, we felt strongly that we needed to get her into the plan discussed with us. She was in the office the next day for an evaluation and quickly there after, Dr Ryan and Bobbie had a plan all set up for her according to her specific needs. We committed to the plan. This required a long discussion with a 13 yr old on what was expected for her best outcome and she committed to doing the work involved. We started seeing little improvements just within weeks on her posture and balance. She was in the office consistently and doing her exercises at home as well. Dr Russell would ask her how she was doing and touch base on ways she could get the most out of her "at home" exercises. Bobbie was absolutely amazing in connecting with my daughter and making her feel comfortable. My daughter has gotten stronger and her curves have consistently gotten straighter. It has only been about 6 months and both my husband and I are blown away by the progress she has made on Dr Russell's plan. I HIGHLY recommend Integrative Chiropractic to anyone seeking help with scoliosis! My daughter has been able to attend school without the worries of wearing a brace in public. She has shown such confidence in the strength she has gained in doing her exercise as well as pushing herself. I cant say enough about how happy we are that we chose Integrative Chiropractic to help our daughter gain not only a healthier back, but a healthy self esteem as well.
Brandon - Cervical Curve Correction & Lumbar Curve Correction
Jenny and Ashley - Scoliosis Curve Correction
Gia - Cervical Curve Correction
Reviews of Integrative Chiropractic Health & Wellness

I absolutely love this place! I came in a few months ago because of some pain in my foot and shoulder. Dr. Russell has done an amazing job of fixing the issues that were causing me pain and his willingness to answer all of my questions has been refreshing. I highly recommend visiting Dr. Russell if you're looking for a chiropractor in Birmingham!Also shout out to the staff at Integrative! They make my day every time I come in for a visit. ❤ Stephanie Hogan Mardis
02:52 18 Dec 19
Dr. Russell is FANTASTIC! I went in with lower back pain. He was able to find the cause and make a plan of action to treat my pain. He has the best staff working with him. I recommend him to EVERYONE!!

STEVE HENDLEY
01:35 11 Dec 19
When I got here I couldn't hardly move. My back and neck were in so much pain that I couldn't hardly go to work. A friend recommended Dr Russell so I decided to see if he could help me out. After a short consultation he proceeded with an adjustment that made all the difference in the world. I felt fully mobile again... I would recommend Interactive Chiropractic to everyone and I will not go anywhere else. Thanks Dr Russell.

Jason Hooper
21:29 10 Dec 19
I have been receiving chiropractic care for close to 30 years and up until now, my experience with chiropractic was simply to resolve an issue of present pain; it wasn't until I began coming to see Dr Russell and his staff that I began to understand the importance of training my body to correct itself, functioning the way I am intended to. Dr Russell and his staff have brought and end to my personal physical pain, but have also made it possible for me to correct the issues that have caused me to frequently need chiropractic care in times past - taking me from a temporary to adjustment to a more permanent alignment. Huge Thanks to Dr. Russell and his staff for helping me to restore my physical well being and strength!

Justin Walmsley
15:26 10 Dec 19
I have been going here for a few months now and the treatment has been great! Dr. Russell has been very helpful in relieving my back pain and restoring the curve in my back to help prevent a surgery later in life. Highly recommended!

RUmiko Forrester
14:08 10 Dec 19
Dr. Russell is awesome and knowledgeable. He explains everything so that you understand and is very personable. I would definitely recommend and would be going back!! Branch Harper
02:36 10 Dec 19
Dr. Russell has great expertise in his craft and was able to diagnose, treat my problem and get me back into doing the things that I love. Using x-rays he was able to show me where my issues were coming from and at that point he was able to tell me what it would take to get me out of pain . I am thankful to of found him and his staff.

Wow! What an incredible experience with Dr. Russell. If you are looking for a chiropractor that knows what he's doing, look no further! Thank you Dr. Russell for helping me get back to the active lifestyle that I do passionately desire. I will definitely be coming back!
Join Those Who Are Living Pain Free Lives
Integrative Chiropractic Health & Wellness
1580 Montgomery Hwy #14, Hoover, AL 35216
205-637-1363.