We Can Help You Achieve a Higher Quality of Life.
Because Quality of Life Means Everything!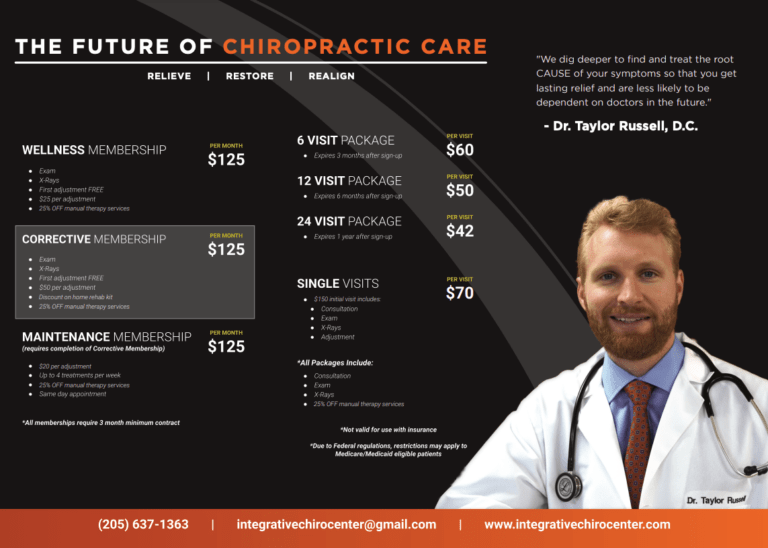 PERSONALIZED CHIROPRACTIC
TREATMENT & SERVICES
Integrative Chiropractic utilizes structural correction chiropractic with active rehab to rehabilitate the spinal dysfunctions causing your symptoms and functional loss.
The goal of our care is to have the patient improve symptomatically, functionally, and structurally and most importantly teach you how to take care of your spine so you're less likely to be dependent on doctors in the future.
Whether you're looking for relief from severe chronic pain, searching for ways to beat the aches and pains of day-to-day living, or seeking the "Holy Grail" of optimal health and peak performance, you've come to the right place.
I think you will find we are a little different from other health care providers. It's not just our commitment to providing first-class health care through natural chiropractic treatments or our great rates that provide a fantastic value for our patients. It's our whole philosophy.
You see we are passionate about wellness on a structural, nutritional, and even emotional level That's why once you are out of pain-whether it be back pain, neck pain, headaches, extremity pain, or other issues- we will teach you how to stay pain free while maximizing your "TOTAL HEALTH" for good.
We will not keep you coming back every week for years on end like some chiropractors do. We will get to the cause of your problem and correct it naturally and thoroughly so you can continue living your life the way you desire.
Please take a few minutes to browse our website and get acquainted. Then give us a call (205) 637-1363 to schedule an appointment. We look forward to seeing you soon!
Why Integrative Chiropractic?
My name is Dr. Taylor Russell. As you'll read, the story of how I came to be a Doctor of Chiropractic was no mistake. My journey from discomfort, pain and fear to wellness, relief and happiness is a very personal story.
The first step in the correction of the spine, is known as the MIX, involves increasing spinal flexibility , spinal disc hydration, and decreasing tight muscles, ligaments, and tendons in the spine through the patient's use of specialized equipment.
Dr Taylor Russell's treatment approach is based on clinical experience, scientific theory and individual patient preferences. This method takes a radically different approach to treating scoliosis than what mainstream doctors  typically recommend.
Neck pain is often related to loss of the normal curve of the neck. This irritates the nerves in the cervical area and localizes the pain accordingly. Usually the cause is pinched nerves in the cervical area or inflammatory processes around them. In this case, to achieve a long-term effect, it is necessary to rehabilitate the soft tissues and to treat all spinal dysfunctions.
Unlike many other chiropractors in the Birmingham, AL area – we deliver overall wellness by unlocking and unleashing your body's full potential.
While each person will experience symptoms differently, any of the following could indicate a back pain:
Localized back pain
Shooting pains
Stiffness and achy
Radiating pain into the legs and feet
Neck pain is often related to loss of the normal curve of the neck. This irritates the nerves in the cervical area and localises the pain accordingly. 
Recent studies have shown that the majority of headaches are caused by the neck due to abnormal spinal alignment and abnormal postures. They most commonly are from the loss of the normal lordosis or cervical curve  and forward head posture. We employ several techniques to correct or improve the cause and get you back to reduced or headache-free living!
Disc Protrusions and Herniations
A herniated disk can irritate nearby nerves and result in pain, numbness or weakness in an arm or leg. On the other hand, many people experience no symptoms from a herniated disk. Most people who have a herniated disk don't need surgery to correct the problem.
Sciatica refers to pain, weakness, numbness, or tingling in the leg. It is caused by injury to or pressure on the sciatic nerve and can involve multiple lumbar spinal nerves that control the legs. Sciatica is a symptom of another problem usually related to abnormal curvature in the low back, osteoarthritis, and spinal disc protrusions and herniations
Whiplash refers to an injury of the neck that is the result of a sudden excessive force that causes the neck and head to jerk forward and then backward or vice versa, such as in a auto crash. The injury typically affects muscles, discs, nerves, ligaments, and tendons in the delicate structure of the neck. 
Welcome Dr Taylor Russell to the Integrative Team!
My name is Dr. Taylor Russell and my journey to becoming a doctor of chiropractic was born out of my desire to help others and have a lasting impact on those around me. Unlike most of my peers, I grew up not knowing what I wanted to be but I greatly admired my father, who is an orthopedic surgeon, and his ability to heal brokenness and restore hope in those he treats.
WHAT OUR CLIENTS SAY ABOUT US
Actual client reviews provided on Google and Facebook

Veronica Banks
03:05 15 Sep 22
The staff of Integrative Chiropractic are absolutely amazing. Dr. Russell is extremely knowledgeable and takes his time to explain things you may not fully understand. Miss Brooke and Miss Karmen are also attentive and very nice. I had a bit of a health scare at one of my appointments and Dr. Russell took time out of his personal time to call and check on me. I have never seen a more compassionate group of individuals. This facility is highly recommended!

Anne Mcclain
20:14 09 Aug 22
Dr. Russell and the rest of his "crew" are fantastic. Dr. Russell has been working with me for degenerative scoliosis and has helped immensely! I have so much more mobility and less pain and high hopes of straightening the curve enough to no linger be considered "scoliosis". I can't say enough good things about Integrative Chiropractic :))

Alan Young
15:11 09 Aug 22
Very friendly staff and Dr. Russell really cares about his patients. He takes the time to talk to you and get to know you and also respects your decisions. I am also feeling much better after coming here and receiving treatments. It is much more than your traditional chiropractor.

Awesome place to come. I been here for 3 months and have seen a great improvement in my spinal. Definitely the place to be.

Kevin Jones
02:17 19 Jun 22
Dr. Russell practices what I call "New School" Chiropractic services.He is professional and very personable. He is consistent with his treatments and or methods. There is no question that I feel better now, than when I started my treatments several weeks ago. I have tried several Chiropractors over the last twenty years and Dr. Russell is one of the best if not the best "in my opinion". I would also like to thank Karmon and Bobbie who are his assistants as well.

Emily Behling
02:39 01 Mar 22
Fantastic care all around. Great personalized treatments that go beyond the typical 'pop and crack' seen at many chiropractic facilities. Highly recommend for anyone having back, shoulder, neck, hip, ect pain/issues.

Julianna Hallman
21:19 03 Jan 22
After going to chiropractors for 15 years, Dr. Taylor Russell is the absolute best chiropractor I have ever been to. He's way more than a pop and go chiropractor. He takes time to explain conditions and what/why he is doing what he is doing. He wants to make his patients better so they can live their lives pain free and don't have to rely on a chiropractor to relieve pain. I absolutely recommend Dr. Taylor Russell to anyone who is in need of a chiropractor in the Birmingham area.

Daniel Foote
17:40 20 Oct 21
I have been getting treatment for several months now. I came in with back and neck pain almost everyday. After getting treatment that pain is almost nonexistent. Dr. Russell and team truly care about their patients. I would recommend them to anyone who needs chiropractic needs.
Take advantage of our offer for a FREE Consultation. There is NO risk, NO cost, and NO obligation. Find out if our proven treatment plans can work for you too and take the first step to living the life you love!