We Can Help You Achieve a Higher Quality of Life.
Because Quality of Life Means Everything!

PERSONALIZED CHIROPRACTIC
TREATMENT & SERVICES
Integrative Chiropractic utilizes structural correction chiropractic with active rehab to rehabilitate the spinal dysfunctions causing your symptoms and functional loss.
The goal of our care is to have the patient improve symptomatically, functionally, and structurally and most importantly teach you how to take care of your spine so you're less likely to be dependent on doctors in the future.
Whether you're looking for relief from severe chronic pain, searching for ways to beat the aches and pains of day-to-day living, or seeking the "Holy Grail" of optimal health and peak performance, you've come to the right place.
I think you will find we are a little different from other health care providers. It's not just our commitment to providing first-class health care through natural chiropractic treatments or our great rates that provide a fantastic value for our patients. It's our whole philosophy.
You see we are passionate about wellness on a structural, nutritional, and even emotional level That's why once you are out of pain-whether it be back pain, neck pain, headaches, extremity pain, or other issues- we will teach you how to stay pain free while maximizing your "TOTAL HEALTH" for good.
We will not keep you coming back every week for years on end like some chiropractors do. We will get to the cause of your problem and correct it naturally and thoroughly so you can continue living your life the way you desire.
Please take a few minutes to browse our website and get acquainted. Then give us a call 205-637-1363 to schedule an appointment. We look forward to seeing you soon!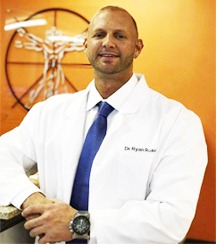 DR. RYAN N. RUSSELL
My name is Dr. Ryan N. Russell. As you'll read, the story of how I came to be a Doctor of Chiropractic was no mistake. My journey from discomfort, pain and fear to wellness, relief and happiness is a very personal story.
SPECIAL OFFER
Take advantage of our offer for a FREE Evaluation and Consultation. There is NO risk, NO cost, and NO obligation. Find out if our proven treatment plans can work for you too and take the first step to living the life you love!
What our clients say about us

Shikeidra Abrams
21:22 18 Sep 19
Dr. Russell got me to feeling better after my car accident. The environment was very peaceful the staff was friendly. Thankful for the experience! Dana Tessier Macke
19:39 03 Jun 19
I moved to Birmingham from Atlanta with a complex lumbar/sacral/facet/disk issue and sacroiliac screws. Trying to assemble my management team I ran into roadblock after roadblock, until I met Dr. Russell and he took me on as a patient. Dr. Russell is not the typical chiropractor you may be accustomed to, in fact "cracking" is just one small portion of all the things he does to restore the health and mobility of all your muscles, tendons, ligaments, disks, facets, and I have to say - this is the man who can get you out of pain and up and going again. I have never been better! Thank you Dr. Russell!

Clay Dunbar
17:42 30 May 19
This place is state of the art. Not only did he cure my restless leg syndrome and I sleep better but many other unexpected positive results have happened. The machines integrated with the chiro practice and easy to see progress on x rays as well as in how I feel are undeniable. He also has the iv bags and does labs for custom preventative medicine next door. All around this is a good move. Misty Alley Wilson
19:58 13 May 19
I've had multiple areas with issues that Dr. Russell and his staff have been able to fix. What I love about integrative is that it's not just a quick adjustment and you're out the door. Dr. Russell is thorough in doing a complete workup which includes xrays and then makes a decision on therapy based off what's going on. He was very thorough in explaining my xrays and treatment to me. Each time I spent an allotted time in different therapy stations before getting my adjustment with Dr. Russell. His adjustment is on point too. He was able to decrease my neck pain after my first session and following concurrent sessions my neck is currently pain free. There's been other issues with hip and even my thumb joints that he's made feel better. Highly recommend. Steve Lojuk
23:55 23 Apr 19
5 starsWent in with neck and shoulder pain with left arm going numb. Left my first visit feeling 75% better. Can't wait for my next appointment tomorrow.

official Teddy Zane
21:41 22 Mar 19
Great experience with Ryan. Herniated discs and tight hips from years of training always feel better after a visit. Highly recommend.

Sarah Preston
12:31 15 Feb 19
Dr. Russell is amazing! I went in for help with a few small things and found a slew of other things that needed adjustments. Walking around day to day, you don't realize how your spine changes and how much it affects how you feel. I honestly didn't realize I needed the adjustments until after we started, but now I feel so much better than I did. Travonda Maxwell
03:52 07 Feb 19
I had the chance to experience Dr. Russell's techniques. I have been to a chiropractor before but he wasn't as precise like Dr. Russell is with his treatments. I can actually feel a lot of difference from the time I started 2 months ago until now. I feel like a new person. I had a lot of mid and low back pain from a car accident. His whole staff is always very professional and kind so if your looking for a chiropractor to get the job done right he is definitely the right Dr.
Join Those Who Are Living Pain Free Lives
Integrative Chiropractic Health & Wellness
1580 Montgomery Hwy #14, Hoover, AL 35216
205-637-1363.