We Can Help You Achieve a Higher Quality of Life.
Because Quality of Life Means Everything!

PERSONALIZED CHIROPRACTIC
TREATMENT & SERVICES
Integrative Chiropractic utilizes structural correction chiropractic with active rehab to rehabilitate the spinal dysfunctions causing your symptoms and functional loss.
The goal of our care is to have the patient improve symptomatically, functionally, and structurally and most importantly teach you how to take care of your spine so you're less likely to be dependent on doctors in the future.
Whether you're looking for relief from severe chronic pain, searching for ways to beat the aches and pains of day-to-day living, or seeking the "Holy Grail" of optimal health and peak performance, you've come to the right place.
I think you will find we are a little different from other health care providers. It's not just our commitment to providing first-class health care through natural chiropractic treatments or our great rates that provide a fantastic value for our patients. It's our whole philosophy.
You see we are passionate about wellness on a structural, nutritional, and even emotional level That's why once you are out of pain-whether it be back pain, neck pain, headaches, extremity pain, or other issues- we will teach you how to stay pain free while maximizing your "TOTAL HEALTH" for good.
We will not keep you coming back every week for years on end like some chiropractors do. We will get to the cause of your problem and correct it naturally and thoroughly so you can continue living your life the way you desire.
Please take a few minutes to browse our website and get acquainted. Then give us a call 205-637-1363 to schedule an appointment. We look forward to seeing you soon!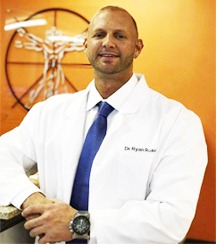 DR. RYAN N. RUSSELL
My name is Dr. Ryan N. Russell. As you'll read, the story of how I came to be a Doctor of Chiropractic was no mistake. My journey from discomfort, pain and fear to wellness, relief and happiness is a very personal story.
SPECIAL OFFER
Take advantage of our offer for a FREE Evaluation and Consultation. There is NO risk, NO cost, and NO obligation. Find out if our proven treatment plans can work for you too and take the first step to living the life you love!
What our clients say about us Debra Celeri
16:38 09 Jun 20
Professional, in depth treatments. Highly recommended.

I absolutely love this place! I came in a few months ago because of some pain in my foot and shoulder. Dr. Russell has done an amazing job of fixing the issues that were causing me pain and his willingness to answer all of my questions has been refreshing. I highly recommend visiting Dr. Russell if you're looking for a chiropractor in Birmingham!Also shout out to the staff at Integrative! They make my day every time I come in for a visit. ❤ Stephanie Hogan Mardis
02:52 18 Dec 19
Dr. Russell is FANTASTIC! I went in with lower back pain. He was able to find the cause and make a plan of action to treat my pain. He has the best staff working with him. I recommend him to EVERYONE!!

STEVE HENDLEY
01:35 11 Dec 19
When I got here I couldn't hardly move. My back and neck were in so much pain that I couldn't hardly go to work. A friend recommended Dr Russell so I decided to see if he could help me out. After a short consultation he proceeded with an adjustment that made all the difference in the world. I felt fully mobile again... I would recommend Interactive Chiropractic to everyone and I will not go anywhere else. Thanks Dr Russell.

Jason Hooper
21:29 10 Dec 19
I have been receiving chiropractic care for close to 30 years and up until now, my experience with chiropractic was simply to resolve an issue of present pain; it wasn't until I began coming to see Dr Russell and his staff that I began to understand the importance of training my body to correct itself, functioning the way I am intended to. Dr Russell and his staff have brought and end to my personal physical pain, but have also made it possible for me to correct the issues that have caused me to frequently need chiropractic care in times past - taking me from a temporary to adjustment to a more permanent alignment. Huge Thanks to Dr. Russell and his staff for helping me to restore my physical well being and strength!

Justin Walmsley
15:26 10 Dec 19
I have been going here for a few months now and the treatment has been great! Dr. Russell has been very helpful in relieving my back pain and restoring the curve in my back to help prevent a surgery later in life. Highly recommended!

RUmiko Forrester
14:08 10 Dec 19
Dr. Russell is awesome and knowledgeable. He explains everything so that you understand and is very personable. I would definitely recommend and would be going back!! Branch Harper
02:36 10 Dec 19
Dr. Russell has great expertise in his craft and was able to diagnose, treat my problem and get me back into doing the things that I love. Using x-rays he was able to show me where my issues were coming from and at that point he was able to tell me what it would take to get me out of pain . I am thankful to of found him and his staff.
Join Those Who Are Living Pain Free Lives
Integrative Chiropractic Health & Wellness
1580 Montgomery Hwy #14, Hoover, AL 35216
205-637-1363.